OVERSTIMS MARATHON Pack + Race number belt with 8 gel loops
Overstims
Description
BEFORE AND DURING AN EFFORT

The strengths of this product :
The most performant products united in one pack

... So you can achieve your aims!
Description:
Forget about the wall, cramps, bad patches and optimize your energy for the perhaps best marathon you've ever run with the OVERSTIMS MARATHON PACK :
By carbo-loadign with the sports drink Antioxidant Malto before the event. By increasing your daily intake of carbohydrates by 20% in the 3 days preceding a race, your body will be able to produce an extra 45% of your usual glycogen stores.
By achieving the best starting conditions with Gatosport Sports Cake,
By stabilizing your blood sugar level when waiting for the start and by avoiding the hypoglycaemias due to stress with Warm-up drink,
By maintaining your energy stable with Liquid Energix during physical exertion,
By reducing the risk of muscular disruption with Antioxidant liquid Gel,
By giving you a boost of energy with the famous Liquid Coup de Fouet Energy Gel and Liquid Red Tonic Sprint Air,
By taking with you energy gels in the Race number belt with 8 gel loops.
Use:
Antioxidant Malto on the 3 days before the event for building up an energetic reserve,
1/3 Gatosport Sports Cake as meal before the event,
500 ml bottle of Warm-up drink in the 2 hours before the start,
Antioxidant liquid Gel for reducing the risk of muscular disruption, 1 tube at the 5th km (3rd mile) and 1 tube at 20th km (12th mile),
Liquid Energix for a regular energy supply during the event, 1 tube at 10th, 15th, 25th, 30th km (6th, 9th, 15th, 18th mile),
Liquid Coup de Fouet Energy Gel and liquid Red Tonic Sprint Air for a strong finish, 1 tube at 35th and 40th km (21st and 24th mile),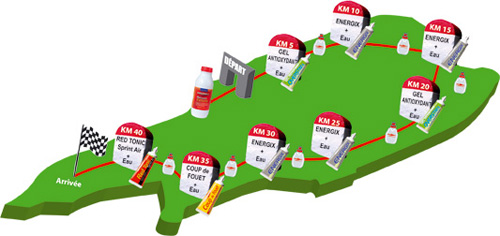 MORE INFORMATION